Today, while the use of internet and online transactions is increasing rapidly, the importance of "protection of personal data" has also increased at the same rate. On the other hand, with the LPPD and the heavy sanctions that was brought together with it, this issue has gained vital importance. Thus, the LPDD, i.e. the Law on Protection of Personal Data, has reached the top rank at the action lists of many institutions and organizations. But first of all, we need to know what personal data is and what information is included within this cover. All kinds of information regarding a natural person who is identified or identifiable are defined as personal data. In this context, contact information, identity information, health information, photos and camera records, financial and biometric information, memberships to associations and foundations are information considered within the scope of personal data.
Why Was LPPD Needed?
The unabated development of technology has caused the data access and transfer speeds to reach the highest levels and to be widely used in every field. And this has created the need to protect the data and prevent its abuse. In this context, the main purpose of the Law on the Protection of Personal Data is to prevent the processing or misuse of personal data, to ensure the security of the data and to prevent violations of personal rights.
Post-LPPD Data Center for Fintech
After LPPD, which brings along high financial sanctions as well as penal conditions in case of violation, the importance of choosing the right data center has been increased for the Fintech sector, which is one of the sectors with the most intense data flow. Because it does not seem possible to measure the loss of reputation that will occur when the selection of a wrong data center causes the relevant institutions and organizations to face a difficult position before the law. This brings along the question, "What should the Fintech industry look for in the service providers when choosing a data center?"
Below, we discuss about 5 critical features that any financial organization shall consider when choosing a data center after LPPD.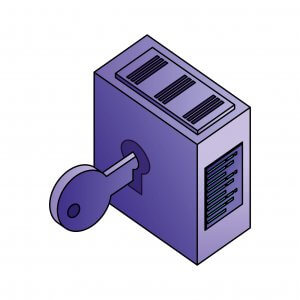 Security: Security: In accordance with the Law on Protection of Personal Data, institutions and organizations are required to provide all kinds of security and compliance with legislation in the environment where their data is located. In this context, the measures that companies shall take against physical and cyber attacks to their infrastructures are very important. You shall make sure that the Data Center from which you shall receive services has multi-layered security measures, including fire detection and extinguishing systems.
Compliance: Organizations that provide financial services, particularly Fintechs, require an environment that complies with data protection regulations such as LPPD to store their data. In order to comply with such regulations, it would be beneficial for them to choose data centers with additional accreditations.
Uninterrupted Operation: Speed ​​and uninterrupted operation are very important in transactions where milliseconds lost in IT operations can be worth millions of dollars. In this context, the data center infrastructure shall continue to operate uninterruptedly without any loss in processes such as communication and real-time big data analysis. This condition is of great importance for corporations in terms of both the management of their reputation and liabilities that may arise from LPPD.
Accessibility: In case of a natural disaster or unexpected interruption, it is necessary to know where the data is and the data shall be available at any time for industries where personal data exchange is intensive, especially for Fintechs. On the other hand, "accessibility" is one of the main factors to be considered in the selection of a data center so that services such as insurance or asset management and digital banking may be resumed with continuous service without any loss of data and time.
Volume: Institutions providing financial services shall be fully redundant against any failure, that is, they shall have a safe power supply. In addition, they shall have sufficient space to store ever increasing personal data and be able to scale this area in line with their requirements.
As a result, it is very important for financial organizations to find a partner such as Telehouse Istanbul, which is fully backed-up and guarantees 99.999% uptime from its SLAs. While Teknotel's Telehouse Istanbul Data Center, which has made it a tradition to provide a world-class, quality and professional service, provides business continuity and uninterrupted operation for institutions that provide financial services with the services it offers in cooperation with its international solution partners, it also fully meets its obligations arising from LPPD and from the requirements of the data center.