As the trend of storing information on the internet environment gained momentum, the high security measures implemented in data centers have become a commonly raised topic. Every company working with a data center for hosting of their CT infrastructure and applications wants to make sure that any physical and cyber security measures are taken for the security of their data. Because data center security is crucial for the professional use of corporate information technologies in today's competitive environment. However, cyber security measures are not sufficient for safe storage and management of data. The integrity, accessibility and security of data are ensured by uninterrupted security checks in addition to administrative and technical measures. As part of this, it is essential that the physical measures taken for data center security be in compliance with Data Center Security Standards and audited by both international and local audit institutions.
It is easy to evaluate some of these physical measures. For instance, a data center should be positioned in a central location. That is to say, the data center should be not only located in an easily accessible/central location, but also far from airports, power plants, fault lines, chemical facilities, and other areas where natural disasters may occur.
Other physical precautions that should be in place in the data center and that are vital for data security can be classified into three;
Air Conditioning and Cooling Systems
First of all, data centers should be specially climatized places where heat and humidity are checked and it is made sure that the power source works uninterruptedly. In addition to being cooled in a controlled manner, they also need to be air-conditioned in accordance with the conditions set by international standards. Because the IT equipment in the data center such as storage/back-up devices and network components should be kept under certain temperature values in places meeting humidity, air flow, temperature and air purification conditions. Otherwise, these devices that are constantly operating may breakdown due to the heat they produce and their increasing number as a result of the growth in business volume. This in turn, brings about repeated interruptions in business continuity, and even cessation of operations.
New methods are being developed in addition to conventional systems in data center cooling processes, and development of sophisticated cooling and air-conditioning systems will be beneficial in terms lowering power consumption. Thus, high performance can be achieved while saving on energy costs.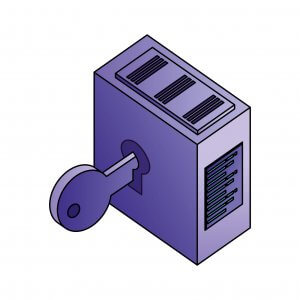 Achieving high performance in data centers and not incurring data loss depends on meeting some essential requirements such as continuity of systems and resistance to problems. This is ensured by controlling the energy consumption amount and the energy consumed. To achieve energy-efficiency on the right level, it should be first determined by what system or devices and in what way the energy is consumed. It is known that air conditioning systems are responsible for most of the energy consumption in data centers. Therefore, it is important to determine and follow-up the energy consumed for air conditioning, and take the consumption other than what is planned under control.
Fire is one of the worst case scenarios that may be experienced by a data center. Therefore determining the fire extinguishing system and the procedures to be followed is indispensable for each data center. Teknotel's Telehouse Istanbul Data Center is continuously monitored by a two-stage and completely addressable fire detection system against both underground and in-room fires. Thanks to the local detection and intervention feature, the exact location of the problem in our systems is determined and quick intervention is made.
Thanks to its "Carrier Neutral" structure, Telehouse Istanbul offers its customers freedom of access to internet service providers (ISPs), carriers, application developers, companies and institutions. Telehouse Istanbul offers its customers fiber optic connection infrastructure over five different operators.
At Telehouse Istanbul, where data center services are provided along with many privileged services, power, AC, fire/flood protection and electronic/physical security infrastructures are provided to the highest level possible, just as with all other Telehouse establishments around the world. It does not cause overconsumption of energy. Your data is kept securely in our services stored in our data centers. Thus, Teknotel's Telehouse Istanbul Data Center serves as a barrier for your business continuity against possible mishaps and continues to develop environmentally conscious plans, aiming to work in total harmony with nature.