In today's world where most sectors take shape around technology, only those companies that use the technology in the best way possible get the chance to succeed in these new sectors. The recent wave of digital transformation efforts not only improved systems but also drove IT infrastructures into a rapid change. Hence, Cloud and Data Center technologies have become one of the most important agenda items for companies.
Having set out on its journey with the goal of offering the latest and most accurate technologies in this rapidly-changing world of technology, Teknotel Telekom guarantees a productive and uninterrupted service manner for your company with the right service and solution components to cater to your technological needs. Its broad service network and solutions enable one single place to meet your IT infrastructure needs with help from a team of technical experts. Through its collaboration with Telehouse, Teknotel guarantees your business continuity at all times with solutions at global standards such as Data Center, Colocation (Server Hosting) and Cloud. Moreover, Telehouse Istanbul Data Center also boasts 'Carrier Neutral' access opportunities which not only provide your company with an independent infrastructure but also offer top level security, energy management and climatization conditions just as all other Telehouse enterprises in the world.
In addition to its data center solutions, Teknotel also provides comprehensive services in server systems, offering hosting, leasing and backup services. Its solution projects include: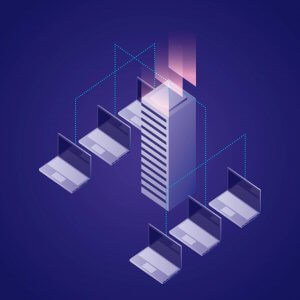 Security Solutions
License Rental Services
Disaster Recovery Solutions
Cloud Solutions
Telehouse Istanbul Data Center
It offers professional, reliable and uninterrupted Data Center services thanks to its experienced engineers with Microsoft SPLA and VMware DCV (Professional – Data Center Virtualization) certifications and its Cisco, VMware Enterprise Solution Provider and Veeam Cloud Provider partnerships. With its Carrier Neutral infrastructure, Telehouse Istanbul Data Center takes these highly qualified system features to a corporate level through its fiber optic and dark fiber connections.
Let Your Digital Transformation Gain Momentum with Teknotel Cloud Services
Today, IT infrastructure investments have become unavoidable spending items for companies. The ever-increasing competition and the changing market conditions, on the other hand, make it a requirement for companies to include new technological developments into their business methods and management processes. As things such as the use of IT resources more efficiently, flexibility, accessibility, security and cost advantages increase in importance for companies with each passing day, companies tend to resort to cloud technologies to meet such needs. Teknotel Telekom uses the latest technologies and infrastructures to offer its Cloud Server, Cloud Backup, Cloud Data Storage and Cloud Disaster Recovery solutions.
Why Should You Prefer Teknotel Telekom?
First of all, and perhaps most importantly, it provides cost advantages. That's because when you have cloud technology you will not have to make huge investments for your IT infrastructure as all those costs for accessing or storing your data such as hardware, software, data center infrastructures, licensing, maintenance or updates will no longer be the case.
It offers 24/7 quick support services for potential problems through its engineers each of whom are experts in their respective areas.
It allows you to raise a ticket to notify any failure and then track your notifications online.
You can upgrade or downgrade your service anytime in line with the resources that your company needs.
To ensure uninterrupted services, Teknotel offers a 100% backed-up access opportunity thanks to its three domestic and two international internet service providers.
Teknotel closely follows cloud technology and uses an HP Blade Server and 3PAR Storage to constantly develop its hardware infrastructure in line with the latest technologies.
Using Teknotel's Corporate Internet, Cloud and Data Center Services, you can easily ensure the capacity management of your IT infrastructure, which in turn provides you with a cost advantage. This way, you can improve your performance and make more time for your main job.