Internet access is one of the most critical issues today. While uninterrupted internet is important even for us as end users, this is also of great importance for businesses in terms of their reputation and competitiveness. Companies need to make serious investments in their system infrastructures in order to achieve this ideal no interruption condition. This brings the concept of "five 9s", that is, 99.999% access capability.
Companies have started to update their Cloud and Data Center strategies to maintain customer loyalty in all regions where they operate as their fields of operation has become global. The maximum uptime requirement is one of the primary requirements for businesses operating in every industry, regardless of the fact that their operations are B2B or B2C. Most international businesses need to work with data centers that provide Tier 3 standard to gain access to their customer base, distributed workforce, services and applications.  In order to understand why data center uptime is so important for global companies, it is necessary to understand the requirements of the data centers that provide Tier 3 standards and to know what Tier Standards are.
What is the Tier Standard?
The Tier standard is the categories created by the Uptime Institute to accurately evaluate the data center infrastructure as per the system availability and the requirements of a business. The details of this classification, which offers Tiers 1, 2, 3 and 4, are as follows;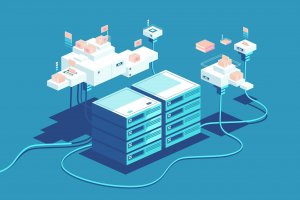 Tier 1: Refers to the standards offered by the data centers that generally serve small businesses. There is no backup of computer systems, electrical and mechanical installations. It has an estimated availability of 99.676%.
Tier 2: Partially has energy and cooling systems. It can withstand a 24-hour power failure using a generator. Offers an estimated availability of 99.741%.
Tier 3: Has a back-up power network and it can withstand a 72-hour failure. It also offers an estimated availability of 99.982%.
Tier 4: In addition to all Tier 3 criteria, it can withstand to 96 hours of failure. It has staff working around the clock and high security measures.
Why is the Tier 3 Standard Important?
A data center with Tier 3 standard has 2 different power distribution channels to ensure that you can continue your operations without interruption and your current data is not lost. This means that each cabinet has more than one uninterruptible power supply. On the other hand, it is equipped with generator and cooling systems to ensure reliable operation processes against any power failure. These seemingly redundant measures are critical for companies that have a worldwide business and workforce network and that serve an equally large customer base. Realizing this condition, many businesses try to benefit from IoT, i.e. internet of things, in many areas such as creating a high level of customer experience, monitoring and effective management of business processes, production and distribution. Utilization of widespread cloud services and data center services with Tier 3 standards may be referred as the most effective way to adapt to this digital transformation process.
Another advantage of having data center services offering the best and up-to-date standards is that it protects your workflow processes against human-induced errors or disruptions that may occur due to possible natural disasters, and allows you to continue without interruption. On the other hand, the fact that they have a Disaster Recovery plan against cyber attacks, which are one of the biggest dangers of the digital age, increases the importance of the data centers offering Tier 3 standard. In this way, you can access your data after any natural disaster or error that may occur, and continue your work without losing any data.
Finding a partner such as Telehouse Istanbul that provides full back-up and guarantees 99.999% uptime in their SLAs is especially important for companies operating internationally. Telehouse Istanbul Data Center of Teknotel, which offers Tier 3+ standards and has made it a tradition to provide a quality and professional service, provides business continuity and uninterrupted operation to the institutions thanks to the services it offers in cooperation with its global solution partners.